Quiz of the Week

Test your knowledge about:
Abraham Lincoln and Kentucky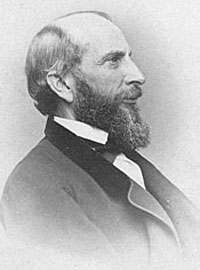 Quote of the Day
The slave-breeders and slave-traders, are a small, odious and detested class, among you; and yet in politics, they dictate the course of all of you, and are as completely your masters, as you are the master of your own negroes."– Letter to Joshua Speed, August 24, 1855
Daily Story
Office Hunters
"Gentlemen, I must tell you a little story I read one day when I was minding a mudscow in one of the bayous near the Yazoo. A certain kind had a minister upon whose judgment he always depended, just as I do upon my friend…
Abraham Lincoln in Depth
Abraham Lincoln's Moods
"Lincoln was a curious – mysterious – quite an incomprehensible man," wrote William H. Herndon shortly before he died...
Read more
View more articles
Cartoon Corner
President Lincoln enjoyed humor. Many Americans enjoyed making fun of the President. Some of the most recognizable cartoons were published in
Harper's Weekly
, a New York City periodical ...
Read more
The Spread of Slavery
This interactive map shows how slavery spread across the United States and its territories from 1844- 1863.
View the feature in its entirety at: Mr. Lincoln and Freedom
Emilie (Emily) Todd Helm
Half-sister of Mary Todd Lincoln, she first came to the White House in December 1863.
View the feature in its entirety at: Mr. Lincoln's White House
Abraham Lincoln and His Secretaries
No one had a better vantage point to observe President Abraham Lincoln than his two principle secretaries, John Hay and John Nicolay.
View the feature in its entirety at: Abraham Lincoln's Classroom
An American History Project of
The Lehrman Institute.
Please acknowledge
when using this research.







Lincoln "by littles"

by Lewis E. Lehrman

Excerpts from
Lincoln "by littles":

"The self-tutored lawyer from Illinois could not understand those 'don't care' politicians, such as Senator Stephen A. Douglas, who pretended indifference to involuntary servitude."
Lincoln & Churchill
They were different men with different backgrounds and very different leadership styles. Abraham Lincoln and Winston Churchill lived through...
Please visit our Lehrman Institute Sites