Abraham Lincoln's Secretaries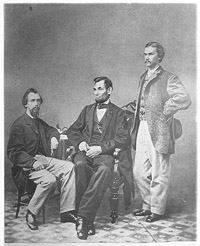 Featured Book
Charles M. Hubbard, Lincoln Reshapes the Presidency
No one had a better vantage point to observe President Abraham Lincoln than his two principle secretaries, John Hay and John Nicolay. They lived at the White House, worked next to the President's office, slept across the hall, accompanied him to the theater, and acted as his eyes and ears in Washington and beyond. Sometimes, through their anonymous newspaper articles, they also acted as his mouthpiece. And they worked hard. Three days after President Lincoln's inauguration, Nicolay wrote his old boss back in Springfield: "If you had passed through what we all have during the four weeks past, you would not want to see or write another for years. We have scarcely had time to eat sleep or even breathe." 1
Springfield merchant John Bunn recalled how John Nicolay and John Hay came to work for Mr. Lincoln in 1860. Former Lincoln law partner Stephen T. Logan raised a fund of $5000 to handle Mr. Lincoln's correspondence. Shortly after this John G. Nicolay, then a clerk in the office of [Secretary of State] O.M. Hatch, agreed, without compensation, to give such time as he could to attend to Mr. Lincoln's political correspondence. Mr. Hatch was then Secretary of State, and he and the clerks in his office arranged their duties so that Mr. Nicolay might have considerable time at his disposal in connection with Mr. Lincoln's correspondence.
Some of the money was used in August 1860 to fund a major campaign rally in Springfield requiring the ten campaign contributors to come up with a new campaign fund of $5000. Bunn recalled: "Meanwhile Mr. Lincoln's correspondence had so materially increased that Mr. Nicolay found it practically impossible for him to take care of it without assistance. At the meeting of the committee, referred to, the question of procuring an assistant for Nicolay was canvassed. The names of various persons were suggested, but none seemed to possess the peculiar qualifications deemed requisite for one who would necessarily have the responsible duties attending the disposal of Mr. Lincoln's weighty and oftentimes delicate correspondence. Finally Milton Hay suggested that his nephew John Hay, who was studying law in his office, had marked literary talent, decided tact, and was otherwise well equipped to fill the position and that, too, without expense to the committee. Moreover, he contended, it would be an excellent thing for young Hay in the way of practical experience. After due consideration the committee decided to make requisition on John Hay for his services and he immediately took his place beside Mr. Nicolay. The two worked together throughout the remainder of the campaign, disposing of Mr. Lincoln's correspondence which, especially after the election, and until the departure of Mr. Lincoln for Washington, in February, 1861, was very large and important.2
Mr. Lincoln was eventually told about the fund, but he apparently never learned the names of the contributors, with the exception of Logan and Bunn. Before President-elect Lincoln left Springfield for Washington in February, Nicolay convinced him to bring along John Hay to help in Washington. At the White House, John Nicolay became Lincoln's principle personal, political and literary interface with the world. Historian David M. Potter wrote that Nicolay "was largely self-taught, especially by intensive study of the Bible and Shakespeare. Lincoln may have recognized a kindred spirit…The quiet, methodical young German brought an increased orderliness into the affairs of his new employer, who had never held any kind of administrative office. They were strikingly representative of social mobility in American life the next president and his secretary, with scarcely two years of formal education between them."3
It was John Hay, however, who grew closer to the President. Journalist John Russell Young wrote of Hay: "comely young man with peach bloom face, old-fashioned speech, smooth, low toned, quick in comprehension, sententious, reserved; folks not quite sure whether it was the reserve of diffidence or of aristocracy; high bred, courteous; not one with whom the breezy, overflowing politician would be apt to take liberties; a touch of sadness in his temperament, this world being a serious business, each day's work requiring the doing of it. He was given to verses, had the personal attractiveness as well as youth of Byron; was what Byron might have been, grounded on good principles and with the wholesome discipline of home.4
In John Hay, Abraham Lincoln may have also seen a bit of himself — the would-be lawyer, the writer, the native sarcasm and wit, the loyalty, the lover of literature and the theater, the hard worker and the natural diplomat. Hay's values mirrored Mr. Lincoln's. Historian Doris Kearns Goodwin wrote: "Smart, energetic, and amusing, the twenty-five-year-old Hay had become far more intimately connected to the president than his own eldest son. Their conversation moved easily from linguistics to reconstruction, from Shakespeare to Artemus Ward."5 Historian Matthew Pinsker wrote: "The two men clearly had more than just a typical office relationship. Hay had become almost like a surrogate son to the president."6 Lincoln biographer David Herbert Donald wrote: "It was not unusual, during the final year of the war, for Hay to accompany Lincoln almost everywhere."7
Nicolay was different. Historian John R. Sellers wrote, "In many ways, Nicolay was just the opposite of Lincoln. He was arrogant, conceited, and elitist, neither seeking nor welcoming the company of common people. He was unforgiving toward military and political failures, and he was extremely vindictive toward the South. He completely misjudged the secession movement and continued to doubt the South's ability to conduct a protracted war. Moreover, Nicolay was not as close to Lincoln as is generally believed. He was younger by almost a quarter of a century, and temperamentally the reverse of the man he most admired. He sided with Lincoln on most of the important political and social issues of the day, such as the expansion of slavery into the western territories, the inviolability of the Federal Union, and emancipation. Most important, however, is the fact that Nicolay recognized the unusual qualities in Abraham Lincoln and made him his lifelong study."8
Nicolay was the gatekeeper to the President. According to John Hay, "Nicolay received members of Congress, & other visitors who had business with the Executive Office, communicated to the Senate and House the messages of the President, & exercised a general supervision over the business" of the White House.9 According to another aide, William O. Stoddard, "There are seldom more than two or three members of the Cabinet who equal the Private Secretary in real power, and he must be a man of more than ordinary brains and integrity if he does not at times do mischief. It is especially desirable that he should be devoted to his chief; and in this, at least, Mr. Lincoln's staff was nearly perfect as possible. Our faith in him was almost blind…The Private Secretary on duty is supposed to exercise more or less control over the access of business or of individuals to the President, but with Mr. Lincoln this was difficult at times, as strength and time alone was allowed to be the measure of his day's labor, and it was not often that the hours from nine in the morning until three or four in the afternoon were not given up to the business of receiving all comers."10
Nicolay took his job seriously, and many seekers of a presidential audience took offense. Journalist Noah Brooks wrote: "The grim Cerberus of Teutonic descent who guards the last door which opens into the awful presence has a very unhappy time of it answering the impatient demands of the gathering, growing crowd of applicants which obstructs passage, hall and anteroom. It would not be a bad idea if an inside guardian of affable address, as well as flintiness of face, were placed on duty here, where the people come almost in actual contact with the great man within, whom they learn to love or dislike, according to their treatment by his underlings."11
Nicolay's critics included members of Congress and Illinois attorney Henry C. Whitney who characterized Nicolay as "a good mechanical, routine clerk."12 Sellers wrote of Nicolay: "Rumors circulated far and wide about his sour and crusty disposition, and inevitably some influential people sought to have him dismissed. Lincoln, although aware of the problem, maintained a seeming indifference. If he raised the issue with Nicolay, he did so in private."13 Nicolay himself tired of such criticism. In a March 1861 letter to his fiancee, Nicolay wrote that "I become disgusted with all the glaring faults, the hollowness and heartlessness of the great crowd of people of both sexes whom I meet and see…"14
Donald observed: "If Lincoln turned to Hay for laughter, he turned to Nicolay for emotional support in crises." 15 Donald wrote: "His support of Lincoln's policies was unquestioning." When the President came under heavy fire for issuing the Emancipation Proclamation, Nicolay sprang to his defense with a strong editorial in the Washington Chronicle that ended: "Abraham Lincoln the President of the United States, is entitled to the everlasting gratitude of a despised race enfranchised, the plaudits of a distracted country saved, and an inscription of undying fame in the impartial records of history." 16 Sellers wrote: "Although he was not a true political insider, he thought of himself as a 'high government official,' and he attempted to act the part."17
Nicolay quickly grew exhausted by his work. Another Lincoln aide, Charles H. Philbrick, wrote that "Nicolay is gloomy on account of physical and mental trouble. I think if he and I could make an 'even divide,' he taking a part of my 163 lbs. weight, and giving me some of his indifference and industry, that we should each be the better for the bargain. Hay does the ornamental…and the main labor is divided between three others of us who manage to get along tolerably well with it."18
Although he worked hard, Nicolay also played hard. Sellers wrote: "One of the most puzzling, and perhaps damning, aspect of Nicolay's White House service was his habit of going on extended summer vacations at the height of each campaign season. These trips put the secretary completely out of touch with authorities in Washington for days and weeks at a time. Anticipating criticism of a seeming indifference to the war, Nicolay informed fiance Therena that we was only trying to avoid the heat and inevitable fevers that plagued Washington each summer, but he later admitted that he was more likely to lose his temper than his health if he remained in the White House."19 When Nicolay took a vacation or business trip, his responsibilities fell to John Hay.
Hay was a man about Washington who made the most of the social cachet his White House job provided. He and Nicolay exchanged catty comments about Washington's single young women. Writing about the Kate Chase, the daughter of Secretary of the Treasury Salmon P. Chase: "Miss Chase is so busy making her father next President that she is only a little lovelier than all other women. She is to be married on November 12th which disgusts me with life. She is a great woman & with a great future."20 But, noted historian Donald, "Hay could also exhibit great delicacy of feeling. When he spotted Fanny Seward, the shy teen-aged daughter of the Secretary of State, standing forlornly alone at a White House reception, he went to her side and expressed a hope that she did not know everybody 'because it was so pleasant to tell who people were.'"21
Nicolay and Hay had more challenging duties outside the office They were frequently employed as confidential agents for the President, but sometimes their duties were more public and controvresial. Hay noted: "When the President had any rather delicate matter to manage at a distance from Washington, he very rarely wrote, but sent Nicolay or me."22 One such mission was Hay's trip to Florida in the winter of 1864, which brought charges that President LIncoln was trying to further his reelection rather than reconstruction.. Historian William C. Harris wrote: "The New York World, the bellwether of the eastern Democratic press, repeatedly claimed that Hay's mission and [Quincy Adams] Gillmore's military operation in Florida were part of a grand Republican strategy to carry the 1864 election, a rather far-fetched charge in view of the fact that the state only had three electoral votes. 'Florida has been marked out as one of the rotten borough states which is to help make Mr. Lincoln President,' the World declared. 'The war for the Union is first perverted into a war for abolition, and now it is a war for the Republican succession.' Sharp criticism of his mission by the New York Herald, a newspaper that claimed to be political independent, especially stung the sensitive Hay. The Herald stridently charged that 'brigades of our brave armies are being sent into rebellious states to water with their precious blood the soil that may produce Presidential votes."23
Some duties Nicolay and Hay undertook on their own initiative. Both wrote anonymously for northern newspapers when they could. So did another Illinoisan, William O. Stoddard, who helped with correspondence in the President's offices. Historian Michael Burlingame wrote: "The anonymous writings by Hay, Nicolay, and Stoddard may well reflect the thinking of the president, or at least what he wanted the public to think. In a discussion of writings by Lincoln's two main secretaries, one scholar observed: 'Hay and Nicolay seem general to have adopted Lincoln's opinions as their own; and it may be surmised that the observations in their Letters, Diary, and Notes, were not far out of line with what Lincoln thought at the time, even when they do not quote directly.' The same may be said of Stoddard, who, like Nicolay and Hay, was a young man who revered his boss extravagantly."24
Historian Michael Burlingame , who has edited many of the secretaries' letters, diaries and writings, wrote: "Though the president have encouraged Stoddard to write for the Examiner, the idea was originally suggested by the editor of the paper, Edward Bright, Jr., the young secretary's uncle. As Stoddard later recalled, 'I was glad to do so and the success which I attained led to my subsequent staff connection with the Examiner during many years.' The New York Examiner was a Baptist weekly founded in 1826 at Utica. At first known as the Baptist Register, over time it changed its name to New York Baptist Register, then the New York Recorder and Register, from 1855 to 1865 it was published in New York City as the New York Examiner. Stoddard, who was devout Baptist who taught Sunday school and led church meetings, also submitted material for publication to the New York Tribune."25
The columns they secretaries penned suggested access to inside information. Stoddard reported: "The President has had a very pleasant little vacation, observing the operations of the army on the Peninsula a relief of which he stood very much in need. He is, as ever, strong in the faith that this campaign, as at present laid out and organized, must compel the speedy restoration of at least 'an armed peace.'"26 Nineteen months later, Stoddard wrote: "The president is steadily recovering his health and strength, and his friends say that he will be rather improved than otherwise by his brief struggle with fever. He received his guests at the Reception the other day with a good deal of his usual hearty cheerfulness, though compelled to avail himself of occasional opportunities for a brief resting-spell."27
Like the other presidential secretaries, Stoddard occasionally was drafted to accompany the President to test a new weapon or watch a old play. In his memoir of the White House years, Stoddard recalled the President coming to his office: "You are here? I reckoned I'd find you here. I am going to the theater, to see Hackett play Falstaff, and I want you to come with me. I've always wanted to see him in that character. Come to my room. It's about time to go." Stoddard wrote: "There are a few minutes spent in the President's room, while he puts away some papers; but he is not thinking, apparently, of the mess of public business he is thrusting aside. He is making an obvious effort not to think of it, and he has actually been reading over the play that he is to witness the presentation of. It does not seem correct to ask him particular questions, but things can be said which stir him up to make remarks, and the more he says the plainer he makes it that he is a thoughtful student of the great poet. He anticipates an evening of unusual enjoyment, and of mental relief and refreshment, and you are keenly conscious that it is the very thing that he is most in need of, next to a great victory by our army in the field."28
Despite Mr. Lincoln's insistence on listening to the nation's problem, Stoddard worried about the strain of public business on Mr. Lincoln. In April 1863, William O. Stoddard: "Same unceasing throng in the ante-rooms of the President's house, bent on dragging him 'for a few minutes only,' away from his labors of state to attend to private requests, often selfish, often frivolous, sometimes corrupt or improper, and not so often worthy of the precious time and strength thus wasted. The President belongs to the nation it is seldom that the affairs of any one man cannot be righted, save by bringing to his aid the delegated power of a whole people. No man, however, will see this, when his eyes are veiled by his interest. But who can doubt that our worthy and wise Chief Magistrate would do better, to bring to the grand yet delicate questions which must be finally decided by him alone, a mind unwearied by listening to private griefs or wishes, and unexhausted by pouring out his too ready sympathies upon misfortunes which, powerful as he is, he cannot remedy."29
Like his colleagues, Stoddard was impressed by the complex style of leadership which his boss exercised. In July 1862, Stoddard wrote: "The President is almost a mystery. Men no longer query whether such or such a General or statesman directs his actions, but 'what will he do with' this statesman or that General. He is the most perfect representative of the purely American character now in public life perhaps the most perfect that ever has existed. This is why the mutual understanding between him and the people is so perfect. This it is which enables him to exercise powers which would never by any possibility be entrusted to another man, though his equal in other respects.
The people know that they can trust their great chief, and so they bid him 'see to it that the Republic suffers no detriment,' and put in his hands untold treasure and uncounted lives, and the temporary disposal of their time-honored rights. The habeas corpus act is suspended 'Lincoln would not do it if it was not needed.' The press is muzzled 'Good for him! Why don't the old man shut off the Herald and the Tribune?' Favorite generals are superseded, favorite measures curtailed or disapproved, prejudices rubbed or snubbed, but the President is the stronger for it all. Pardon me if I dwell on this too much, but it impresses me as one of the most essential elements of all that we retain of steady purpose or united action."30
Recalling his last visit with President Lincoln, Stoddard wrote of his parting thoughts: "You can hardly tell him how keenly you sympathize with his own earnestness. He is, to your perception, a kind of political prophet. He speaks of the Southern people, as he goes on, in the friendliest and most hopeful manner. They have no better friend than he is, nor wiser. He is without a shadow of doubt as to what the end will be, or but that the Union is utterly and forever safe." Stoddard concluded, referring to himself: "You may as well go now, for you feel something swelling, swelling within you, and it is getting somewhat difficult to talk. He, too, has arisen, and the parting grasp of his iron hand all but crushes your own, while the deep, mournful eyes beam down upon you warmly, full of good-will."31
There was jealousy and friction among the President's assistants. Historian Matthew Pinsker wrote: "Invariably, some interoffice sniping developed Hay once called Stoddard 'asinine' and Philbrick complained in letters home that Hay only did 'ornamental' work but for the most part, the group functioned well and appeared to enjoy the president's trust."32 Hay's asperity with Stoddard's work habits was suggested in a September 1863 letter to John G. Nicolay:
"A week or so ago I got frightened at
'The Brow so haggard the chin so peaked
Fronting me silent in the glass'
And sending for Stoddard (who had been giving the Northern watering places for the last two months a model of high breeding and unquestionable deportment) I left for a few days at Long Branch [on the New Jersey shore] and two or three more at Providence."33
Stoddard himself reported an occasion when Hay told him "that he considered me a kind of miracle of hard work and that I could do more without showing it than any other man he had ever seen. He abused me also for being what he called 'statuesque' and always inclined to strike attitudes and take positions but I replied that the latter was just what we were wishing the army would succeed in doing." 34 Hay's asperity surfaced again a year later after Stoddard departed to become U.S. marshal in Arkansas. Hay wrote John Nicolay in August 1864: "Has the appointment of Land Patent Secretary yet been made? Charlie Philbrick is perfectly steady now I am told. I saw him when last in Springfield & he was straight as a string. If you could make it proper at yr. end of the line I am very sure you could not get a man more thoroughly discreet & competent. He made a most favorable impression on me when I saw him all of one evening. The subject was not mentioned by either of us. Stod[dard] has been extensively advertising himself in the Western Press, His asininity which is kept a little dark under your shadow at Washington blooms & burgeons in the free air of the West." 35
Philbrick, who had been "hideously drunk" when Hay saw him in Illinois in October 1862, was accordingly hired to replace Stoddard as secretary of land patents.36 Soon after, Hay wrote: "I take a dreary pleasure in seeing Philbrick eat steamed oysters by the half bushel. He has gotten a haven of rest in the family of some decayed Virginia gentry. Really a very lucky chance. Good respectable & not dear." 37 But he had apparently slipped by April 1865 when Hay wrote him: "I must insist that you shall be more regular in your attendance at the office. The work is getting badly behind-hand and the current work even cannot be kept up. June will come before any progress is made in the work of preparing the office for the new Secretary."38
Philbrick was one of several men who were deputized to help Nicolay and Hay. Another was former Massachusetts State Senator Nathaniel S. Howe. Hay wrote Nicolay: "How is a very good fellow. I hate to give orders to a man who was a Senator in Massachusetts while I was in jacks & button cinctured trowsers. Still he is better than Stod as he is never stuffy and always on hand."39 Still another aide who was hired in 1864 to replace Philbrick was Minnesota educator and minister Edward D. Neill. When Nicolay and Hay were out of the office, he was in charge. Leaving on a presidential mission in mid-July 1864, Hay wrote Edward Neill: "I am going to New York tonight on business. Will be gone only a very few days."
"I leave matters in your hands till my return. There will probably be little to do. Refer as little to the President as possible. Keep visitors out of the house
when you can. Inhospitable, but prudent."
"I have a few franked envelopes. Let matters of ordinary reference go without formality of signature. If you have any doubt about any matter, please reserve it till my return."40
Neill later recalled President Lincoln's reaction to his reelection that November: "Passing the door of Prest. Lincoln's office, on the morning after the second election, and seeing the door partially open he entered, and drawing up a chair near L. congratulated him upon his reelection. The Prest. received him kindly, and throwing up his spectacles, chatted familiarly with him for some minutes." Neil was "particularly struct…that the bundle of papers which the Prest. had been intently poring over was the record of a Court-Martial trial of a private soldier condemned to be shot, whose sentence had been suspended; and Mr. Neill concluded that a man who could go back to his office and resolutely take up the dull routine drudgery of his post with such equanimity, on the morning after a triumphant reelection to the Presidency under the peculiar and exciting circumstances then existing, must be a man full of the elements of greatness, and one who would not lose his self-possession [in] any probably emergency."41
Both Nicolay and Hay were expected to enter the diplomatic service at the beginning of President Lincoln's second term. When Nicolay was confirmed by the Senate in mid-March, the National Intelligencer reported: "He will, it is understood, not proceed to Paris immediately, but will remain at the Executive Mansion for some time."42 Nicolay and Hay were burned out and looking forward to turning over their duties to a journalist they didn't particularly like, Noah Brooks, an Illinoisan who wrote for the Sacramento Daily Union in California. They may have read that Brooks had written that President Lincoln's "immediate subordinates are snobby and unpopular."43 He added that "the least said of them the better, perhaps."44 They probably knew that Brooks had been conspiring with Mrs. Lincoln, with whom they had a rocky relationship, to replace them. In December 1864 Philbrick wrote an Illinois official: "Mrs[.] will try to put in her favorite, Mr. Brooks, a newspaperman."45 Mrs. Lincoln had a fellow schemer in Dr. Anson Henry, a longtime friend of the Lincolns whom had come to know Brooks, a fellow Illinoisan transplanted to the West Coast, on his trips to Washington, D.C. from Oregon.
Like Hay and Nicolay, Brooks was qualified by literary talents and personal affinity to work with the President. Lincoln scholar Herbert Mitgang wrote: "Of all the American journalists and would-be confidants who sought passkeys to Abraham Lincoln's precious time in the White House, one newspaperman stood out as his favorite."46 Michael Burlingame wrote: "It is not hard to understand why Brooks and Lincoln may have been close, for they shared much in common, though they were two decades apart in age. Each had a knack for friendship, an amiable disposition, a deep-seated hostility toward slavery, a weakness for puns, and a fondness for literature; both had survived youthful hardships to become self-made men."47
Brooks' intimacy with and utility to President Lincoln was facilitated by the closeness of his apartments to the White House and his job as clerk to the House Committee on Printing Records of Congress. According to historians Wayne C. Temple and Justin G. Turner, Brooks "often took breakfast with the President before reporting for work at the House of representatives, he could perform such tasks [of delivering personal messages] easily. One particular morning, sometime between February 24 and March 3, 1865, he was loitering pleasantly at the White House when Lincoln asked 'if, on arriving at the Capitol, whither I was going, I would say to Senator Sumner that he (the President would be glad if the Senator would call to see him later in the day if day, if entirely convenient.' Brooks sought out Sumner and relayed the President's invitation."48
Brooks was also expected to relay information back to the White House. He was lightly castigated by President Lincoln after the June 1864 Republican National Convention for not notifying him of his renomination: "The next evening, when I called on the President at home, I was astonished by his jokingly rallying me on failure to send him word of his nomination. It appeared that nobody had apparently thought it worth while to telegraph him the result of the balloting for the Presidential nominee of the convention. Probably each one of the many men who would have been glad to be the sender of pleasant tidings to the President had thought that some other man would surely anticipate him by a telegram of congratulation. In the confusion that reigned in the convention nobody went to the wires that were led into the building but the alert newspaper men, who thought only of their own business." Brooks and the President talked over the "curious details of the convention" before they were interrupted by the Ohio Republican delegation which "desired to pay their respects"49
Taking the Whihte House job was going to be a financial sacrifice for Brooks since he was holding down two jobs as a reporter and congressional staffer whose salaries exceeded that of the President's private secretary. He wrote of President Lincoln: "I would have made myself poor for the sake of serving a man so dear to me, and for sake of serving the Country by saving him for better and higher duties…" 50 Although Brooks was sick with a heavy cold, he hung out at the White House on the evening that President Lincoln was murdered. He was there when President Lincoln talked with House Speaker Schuyler Colfax. "His conversation was full of fun and anecdotes, feeling especially jubilant at the prospect before us. The last words he said as he came out [to] the carriage were: 'Grant thinks that we can reduce the cost of the army establishment at least a half million a day, which, with the reduction of expenditures of the Navy, will soon bring out national paper up to a par, or nearly so, with gold; at least so they think.'"51
Shortly after Lincoln's death, Brooks wrote in his newspaper column, "I cannot help saying here that I knew and loved Abraham Lincoln well. It was my good fortune to make his acquaintance years ago, during the early days of Republicanism, in Illinois, and since my sojourn in Washington that early acquaintance has ripened into intimacy near and confiding. This enables me to testify to his unspotted integrity, his thoughtful kindness for everybody, his unselfish modesty, his genial heartiness, his sagacity, shrewdness and his knowledge of human nature. Often when I would ask a favor for some poor soldier or friendless deserving youth, he would give his whole attention to the matter, as though were his most important business on hand, and would laughingly say: 'It seems to me you have a knack for picking up just such cases that nobody else thinks of.'"52
In the decades after the President's death, Hay, Nicolay, Stoddard and Brooks all picked up the thread of Mr. Lincoln's life and wrote memoirs and biographies. These works are among the most valuable sources of information about Abraham Lincoln's life in the White House.
---
More on the Author
Michael Burlingame (editor). At Lincoln's Side: John Hay's Civil War Correspondence and Selected Writings. (Southern Illinois University Press, 2000) Burlingame, Michael, Lincoln's Journalist: John Hay's Anonymous Writings for the Press, 1860-1864. (Southern Illinois University Press, 1998) Burlingame, Michael and John R. T. Ettlinger (editors). Inside Lincoln's White House: The Complete Civil War Diary of John Hay. (Southern Illinois University Press, 1999) Dennett, Tyler. John Hay: From Poetry to Politics (Dodd, Mead & Company, 1934) Owens, Patricia Ann, The Friendship of Henry Adams and John Hay, Lincoln Herald, Winter 1995 Thayer, William Roscoe, The Life and Letters of John Hay (Periodicals Service Company, 1915)
---
References
Michael Burlingame, With Lincoln in the White House: Letters, Memoranda, and Other Writings of John G. Nicolay, 1860-1865, p. 30.
Jesse W. Weik, The Real Lincoln: A Portrait, p. 283-284.
David M. Potter, The Impending Crisis: 1848-1861,p. 555.
John Russell Young, Men and Memories, p. 453.
Doris Kearns Goodwin, Team of Rivals: The Political Genius of Abraham Lincoln, p. 545.
Matthew Pinsker, Lincoln's Sanctuary: Abraham Lincoln and the Soldier's Home, p. 110.
David Herbert Donald, "We Are Lincoln Men," Abraham Lincoln and His Friends, p. 178.
Charles M. Hubbard, Lincoln Reshapes the Presidency, p. 64 ( John R. Sellers, "Serving President Lincoln: The Public Career of John G. Nicolay").
Michael Burlingame, At Lincoln's Side: John Hay's Civil War Correspondence and Selected Writings, p .110 (Letter from John Hay to William H. Herndon, September 5, 1866).
Michael Burlingame, Inside the White House in War Times, p. 157.
Michael Burlingame, Lincoln Observed: Civil War Dispatches of Noah Brooks, p. 83 (November 7, 1863).
Douglas L. Wilson and Rodney O. Davis, Herndon's Informants: Letters, Interviews, and Statements about Abraham Lincoln, p. 619 (Letter from Henry C. Whitney to William H. Herndon, June 23, 1887).
Charles M. Hubbard, Lincoln Reshapes the Presidency, p. 53 (John R. Sellers, "Serving President Lincoln: The Public Career of John G. Nicolay").
Charles M. Hubbard, Lincoln Reshapes the Presidency, p. 55 (Letter from John G. Nicolay to Therena Bates, March 17, 1861).
David Herbert Donald, "We Are Lincoln Men," Abraham Lincoln and His Friends, p. 194.
David Herbert Donald, "We Are Lincoln Men," Abraham Lincoln and His Friends, p. 187.
Charles M. Hubbard, Lincoln Reshapes the Presidency John R. Sellers, "Serving President Lincoln: The Public Career of John G. Nicolay"), p. 60.
Wayne C. Temple, and Justin G. Turner, "Lincoln's Castine:" Noah Brooks, Chapter VII, Lincoln Herald, Fall 1971, p. 169 (Letter from Charles H. Philbrick to Ozias M. Hatch, December 30, 1864).
Charles M. Hubbard, Lincoln Reshapes the Presidency, p. 56 (John R. Sellers, "Serving President Lincoln: The Public Career of John G. Nicolay").
Michael Burlingame, At Lincoln's Side: John Hay's Civil War Correspondence and Selected Writings, p. 67.
David Herbert Donald, "We Are Lincoln Men," Abraham Lincoln and His Friends, pp. 183.
Michael Burlingame, At Lincoln's Side: John Hay's Civil War Correspondence and Selected Writings, pp. 110 (Letter from John Hay to William H. Herndon, September 5, 1866).
William C. Harris, With Charity for All, Lincoln and the Restoration of the Union, pp. 132,
Charles M. Hubbard, Lincoln Reshapes the Presidency, pp. 66-67 Michael Burlingame, "Lincoln Spins the Press").
Michael Burlingame, Dispatches from Lincoln's White House: The Anonymous Civil War Journalism of Presidential Secretary William O. Stoddard, p. 79 (May 12, 1862).
Michael Burlingame, Dispatches from Lincoln's White House: The Anonymous Civil War Journalism of Presidential Secretary William O. Stoddard, p. xix.
Michael Burlingame, Dispatches from Lincoln's White House: The Anonymous Civil War Journalism of Presidential Secretary William O. Stoddard, p. 197 (December 14, 1863).
William O. Stoddard, Inside the White House in War Times, p. 186.
Charles M. Hubbard, Lincoln Reshapes the Presidency (Michael Burlingame, Lincoln Spins the Press), p. 76.
Michael Burlingame, Dispatches from Lincoln's White House: The Anonymous Civil War Journalism of Presidential Secretary William O. Stoddard, p. 88-89 (July 21, 1862)..
William O. Stoddard, Inside the White House in War Times, p. 244.
Matthew Pinsker, Lincoln's Sanctuary: Abraham Lincoln and the Soldier's Home, 111.
Michael Burlingame, At Lincoln's Side: John Hay's Civil War Correspondence and Selected Writings, p. 63 (Letter from John Hay to John G. Nicolay, September 11, 1863).
Michael Burlingame Editor, Inside the White House in War Times: Memoirs and Report of Lincoln's Secretary, p. xii.
Michael Burlingame, At Lincoln's Side: John Hay's Civil War Correspondence and Selected Writings, p. 93 (Letter from John Hay to John G. Nicolay, August 26, 1864).
Michael Burlingame, At Lincoln's Side: John Hay's Civil War Correspondence and Selected Writings, p. 91 (Letter from John Hay to John G. Nicolay, October 28, 1862).
Michael Burlingame, At Lincoln's Side: John Hay's Civil War Correspondence and Selected Writings, 95 (Letter from John Hay to John G. Nicolay, September 24 1864).
Michael Burlingame, At Lincoln's Side: John Hay's Civil War Correspondence and Selected Writings, p. 104 (Letter from John Hay to Charles H. Philbrick, April 6, 1865).
Michael Burlingame, At Lincoln's Side: John Hay's Civil War Correspondence and Selected Writings, p. 49 (Letter from John Hay to John G. Nicolay, August 7 1863).
Michael Burlingame, At Lincoln's Side: John Hay's Civil War Correspondence and Selected Writings, p. 91 (Letter from John Hay to Edward D. Neill, July 14, 1864)..
Michael Burlingame, Lincoln Observed: Civil War Dispatches of Noah Brooks, p. 83 (Conversation with E.D. Neill, May 18, 1874).
Wayne C. Temple, and Justin G. Turner, "Lincoln's Castine:" Noah Brooks, Chapter VII, Lincoln Herald, p. 168 (Washington National Intelligencer, March 14, 1865).
Michael Burlingame, Lincoln Observed: Civil War Dispatches of Noah Brooks, p. 83 (November 7, 1863).
Michael Burlingame, Lincoln Observed: Civil War Dispatches of Noah Brooks, p. 82 (November 7, 1863).
Ronald D. Rietveld, "The Lincoln White House Community", Journal of the Abraham Lincoln Association, p. 68 (Letter from Charles H. Philbrick to O.M. Hatch, December 30, 1864).
Herbert Mitgang, The Fiery Trial: A Life of Abraham Lincoln, p. 163.
Michael Burlingame, Lincoln Observed: Civil War Dispatches of Noah Brooks, p. 5.
Wayne C. Temple and Justin G. Turner, Lincoln, Lincoln Herald, Fall 1971, pp. 165-166.
Noah Brooks, Washington, D.C. in Lincoln's Time: A Memoir of the Civil War Era by the Newspaperman Who Knew Lincoln Best, p. 148.
Wayne C. Temple, and Justin G. Turner, "Lincoln's Castine:' Noah Brooks, Chapter VII, Lincoln Herald, Fall 1971, p. 164 (Letter from Noah Brooks to Rev. Isaac P. Langworthy, May 10, 1865).
Michael Burlingame, Lincoln Observed: Civil War Dispatches of Noah Brooks, 188.
Michael Burlingame, Lincoln Observed: Civil War Dispatches of Noah Brooks, pp. 193-194 (April 16, 1865).

---