The great exhibition of 1860
Title:
The great exhibition of 1860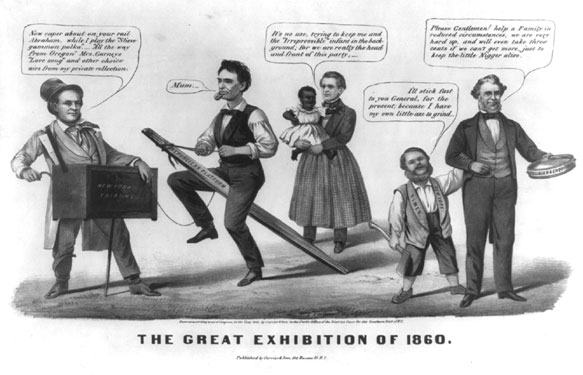 Creator: Currier & Ives
Description: The artist satirizes the antislavery orientation of the Republican platform. Abolitionist editor Horace Greeley (left) grinds his New York "Tribune" organ as candidate Abraham Lincoln (center, riding on a wooden rail) prances to the music. Lincoln is tethered with a cord to Greeley's index finger, and his lips are padlocked shut. Although the abolitionist bias of the party was well-known, Lincoln and the Republicans tried to de-emphasize the slavery issue during the 1860 campaign. Greeley says, "Now caper about on your rail Abraham, while I play the Slieve gammon polka.' 0ll the way from Oregon' Mrs. Gurney's Love song' and other choice airs from my private collection." Lincoln replies, "Mum." In the background stands William H. Seward, holding a wailing black infant. He complains, "It's no use trying to keep me and the 'Irrepressible' infant in the background; for we are really the head and front of this party." (For the contextual significance of the term irrepressible see ""The Irrepressible Conflict,"" no. 1860-28.) At right stand two other New York editors friendly to the Republican cause, Henry J. Raymond of the "New York Times" (a short, bearded man holding an ax) and James Watson Webb of the New York "Courier and Enquirer." Raymond clings to Webb's arm, saying, "I'll stick fast to you General, for the present; because I have my own little axe to grind." (Raymond was Webb's chief associate on the "Courier" staff until 1851, when he left to found a rival paper.) Webb holds out a tambourine and complains about the financial difficulties experienced by his newspaper: "Please Gentlemen! help a Family in reduced circumstances, we are very hard up, and will even take three cents if we can't get more, just to keep the little Nigger alive." The artist is poking fun at the measures Webb took in August 1860 to revive his newspaper's flagging circulation, which included a reduction of the paper's price to three cents and the hiring of newsboys to sell the "Courier" on the streets.